Today I was supposed to be doing 300km/h in a Porsche Panamera Turbo for my Bright item 'The ultimate daddy car'. Unfortunately the previous journalist had exactly the same idea and drove the press car into something unforgiving. Net result: no car available for me today.
So for a moment it seemed: No Porsche, no photoshoot, no article. Fortunately the friendly people at Porsche Centrum Groningen were nice enough to provide us with a Panamera Turbo for the photoshoot. Models Bas and Joas were at the scene together with moms, dads and photographer Maurice Mikkers. Results in the upcoming issue of Bright magazine.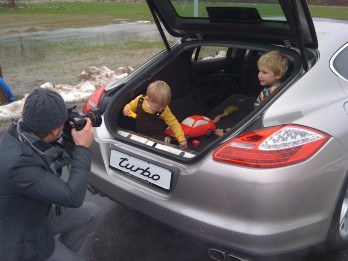 In case you're not into the four door Porsche, you could consider the matt black Cayman for sale in Groningen. In case you're wondering: it's not paint, it's a foil wrap.