Last week I had to bring the Volvo XC60 back to Volvo HQ in Beesd and drive my own car back home. Originally I had planned to drive there early on thursday. But I changed my mind and drove there straight from Leeuwarden on wednesday. That would save me precious time during a very busy week.
Halfway there I stopped the XC60 for fuel and locked it. Then all of a sudden it dawned on me: I hadn't brought the keys to my own car. Annoyance, frustration!
So I called Volvo. But the Swedish would not help me break into my own car. So I googled a 24-hour delivery service. He could bring my car keys the next morning. Fortunately I found a place to crash in Amsterdam.
The next day I waited at Volvo HQ for my car keys to arrive. The courier called me that he was stranded 150 meters from me at a closed off railway crossing. So I walked across a field of mud, past workers breaking up the road, slipped through a gate and shook hands with someone in a white unmarked van at the middle of the railway crossing.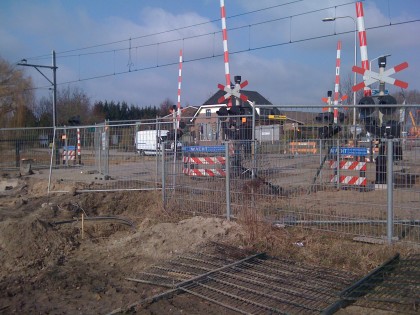 Moral of the story: if you want to save time, think it through, or you'll end up looking like a drug dealer.